Indonesia is an open economy that ranks 15th globally in terms of nominal GDP and 29th in terms of foreign trade value. Indonesia's most important trade partner is China, in terms of both exports and imports.

Other important trade partners are the US, Japan, India, South Korea and fellow ASEAN members Singapore, Malaysia, the Philippines, Thailand, and Vietnam. Indonesia's most significant exports are mineral products, mineral fuels, oils, machinery and electronic equipment. The country imports mineral products, machinery and electronic equipment, base metals and chemical products. The Indonesia Premium database offers foreign trade data by volume and value, and by HS goods classification for more than 60 of Indonesia's trade partners.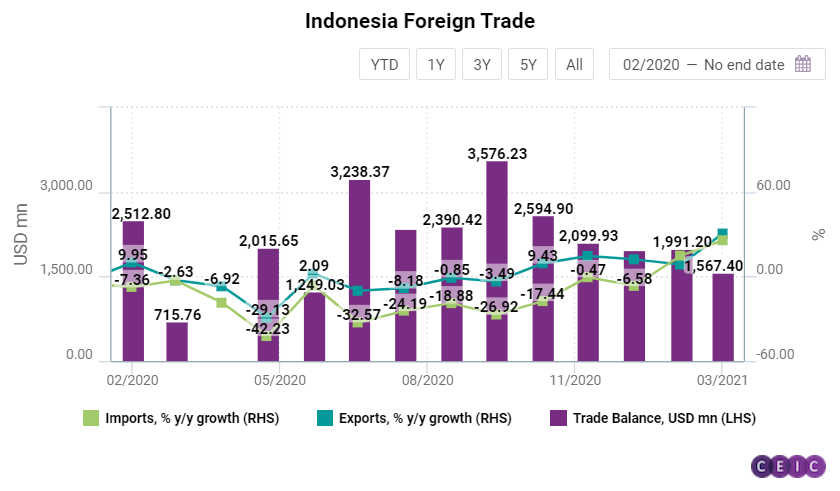 Indonesia's exports and imports have been growing since the beginning of 2021. In March, exports grew by 30.5% y/y while imports increased by 25.7% y/y.
Since May 2020, Indonesia has maintained a trade surplus. In March 2021 it amounted to USD 1.6bn but it has been steadily decreasing since October 2020 when it hit a ten-year peak of USD 3.6bn.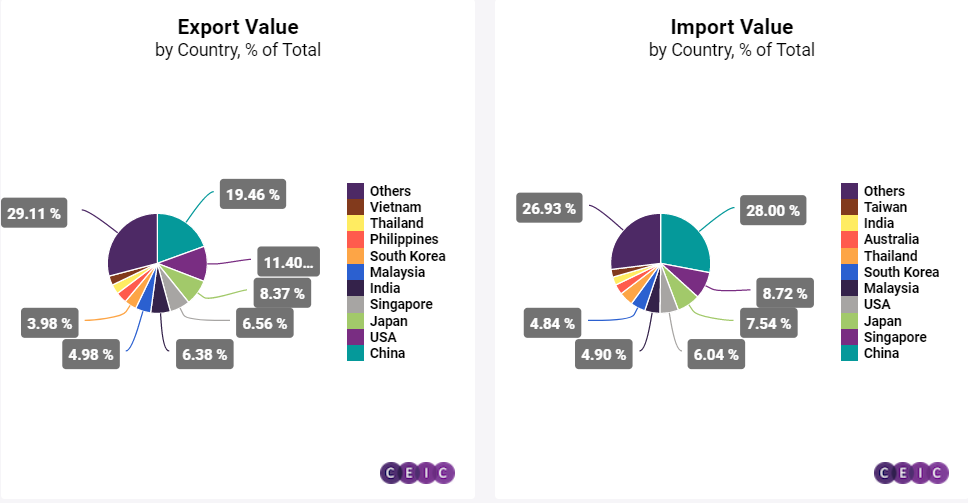 China continued to be Indonesia's most important trade partner throughout 2020. A total of 19.5% of all Indonesian exports were shipped to China, followed by the US (11.4%) and Japan (8.4%).
In addition to this, China was also Indonesia's largest source of imports. Some 28% of all imports came from China, while Singapore and Japan's shares amounted to 8.7% and 7.5%, respectively.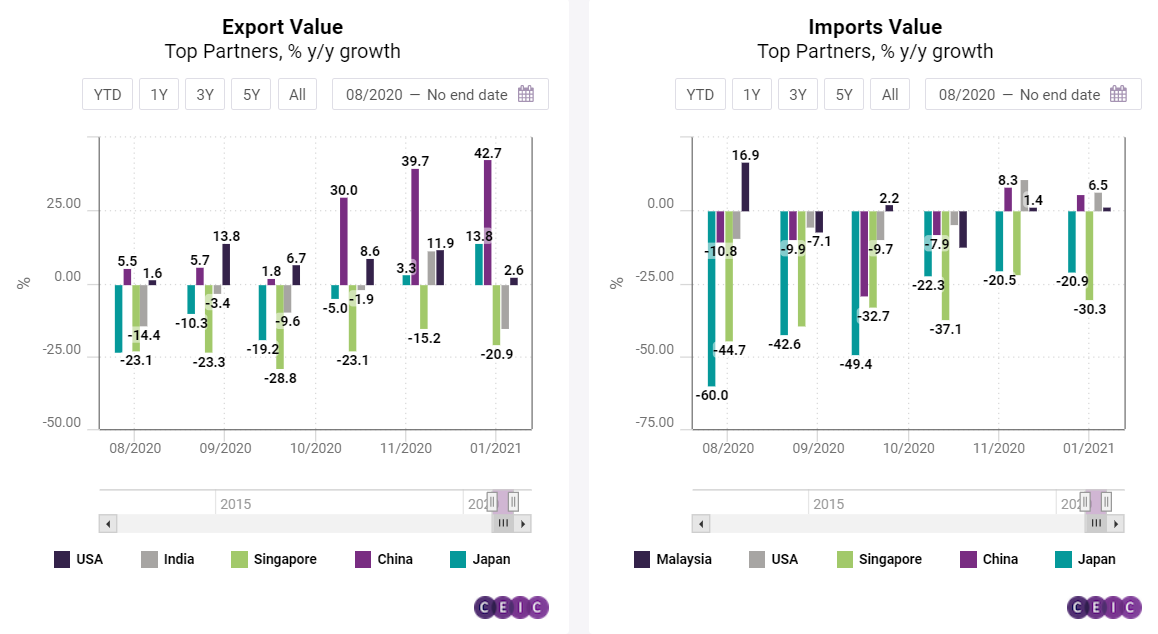 The growth of exports to China has accelerated since November 2020. In January 2021, exports to China increased by 42.7% y/y. Shipments to Japan also increased considerably, by 13.8% y/y. There is a noticeable decline in exports to Singapore which have been shrinking constantly since the COVID-19 pandemic struck in April 2020.
Imports from China started to accelerate again in December 2020 after a five-month period of constant decline. They grew by 5.5% y/y in January 2021, at a slower pace than US imports which increased by 6.5% y/y. Among other top trade partners, imports from Japan and Singapore shrank strongly, by 20.9% y/y and 30.3% y/y, respectively.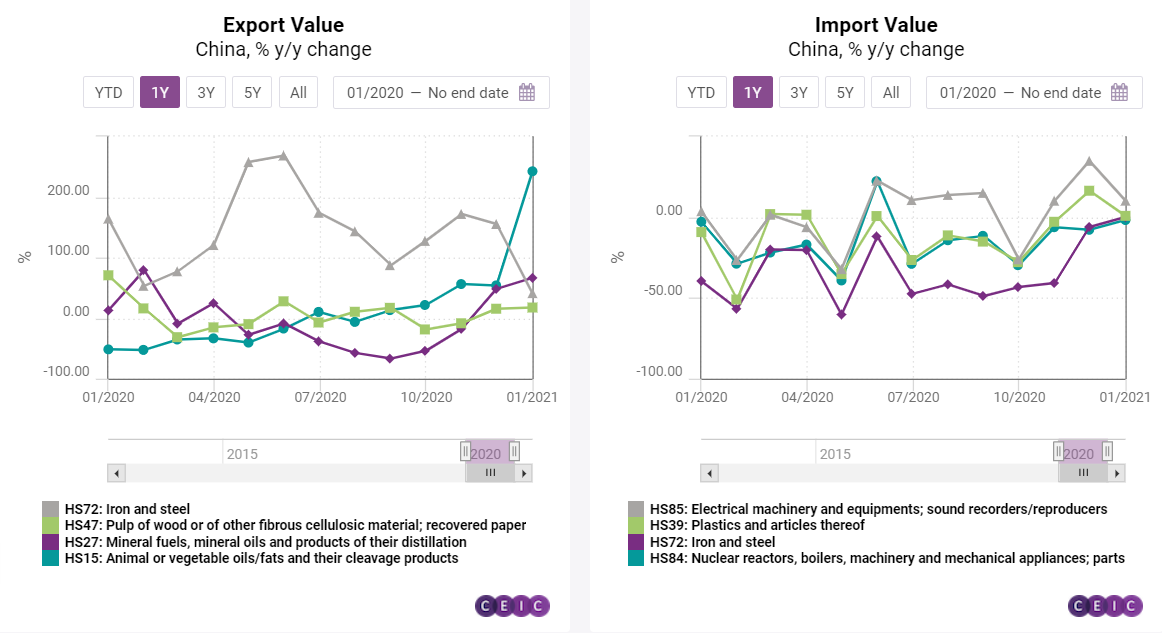 As of January 2021, the biggest increase in export value to China comes from animal or vegetable oils which grew by 242.6% y/y. Mineral fuels and oils exports increased by 66.5% y/y and iron and steel exports grew by 41.4% y/y.
The growth of imports from China has been less robust. Among the major import groups, the imports of electrical machinery and equipment increased by 10.3% y/y in January 2021, while those of plastics and iron and steel products grew by a mere 0.9% y/y and 0.1% y/y, respectively.
Mineral fuels, oils and other products are the most significant export group for Indonesia. In terms of main trade partners, exports of these goods to China and Malaysia have picked up since November 2020, increasing by 66.4% y/y and 29.9% y/y, respectively, in January 2021. Conversely, shipments to India and Singapore declined, by 25.8% and 19.9% y/y, respectively.
The largest import goods group in Indonesia is electrical machinery and equipment. Among the major partners, imports from Taiwan and China increased in January 2021, by 33.1% y/y and 10.3% y/y, respectively. Imports from Japan, on the other hand, declined by 10.3% and those from Singapore decreased by 16.7% on an annual basis.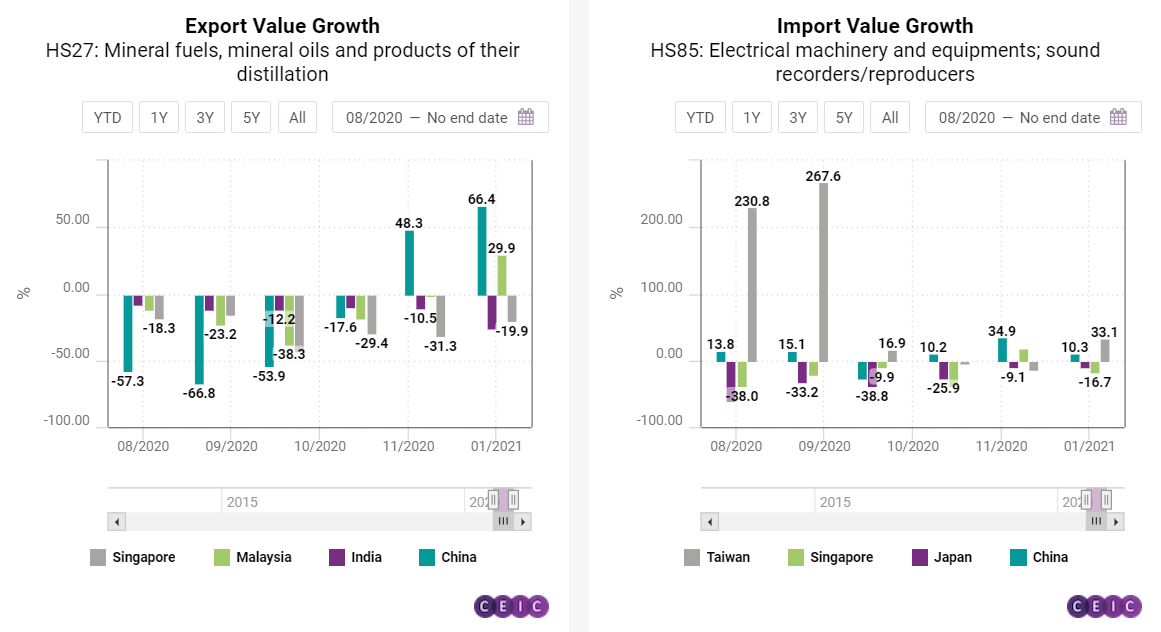 Sign in to access all datasets for this insight piece here. Alternatively, you can learn more about the CEIC Indonesia Premium Database - the premier source for everything you need to know about the Indonesian economy, housing an unprecedented wealth of information revealing the drivers of this market.