China's trade turnover finally improves in November, after three months of sluggish growth in both exports and imports. Real-time port statistics provided by Elane Inc., a leading pilot logistics information platform, reveal that China's top 20 ports have been handling ever-increasing number of arriving and departing ships in November, despite the ongoing negative implications of the lockdowns. Elane data offer detailed daily information on the performance of each port by ship type, deadweight tonnage, and averaged ship time in port, berth and anchorage.
The total number of arrived ships in November reached 147,054, while the departures stood at 163,182, both recording all-time highs. In fact, after hitting the bottom in early February this year, both numbers have been on upward trends despite small fluctuations. Ahead of end-of-year holidays, not only the absolute numbers, the y/y growth rate for both arrived and departed ships have also jumped in November, expanding by 29% and 44% respectively, levels that have not been observed in more than a year and a half. The improvement in terms of volume, measured in deadweight tonnage, is even more pronounced. Despite high base effect and subdued global demand, the deadweight tonnage of arrived and departed ships also hit all-time highs in November.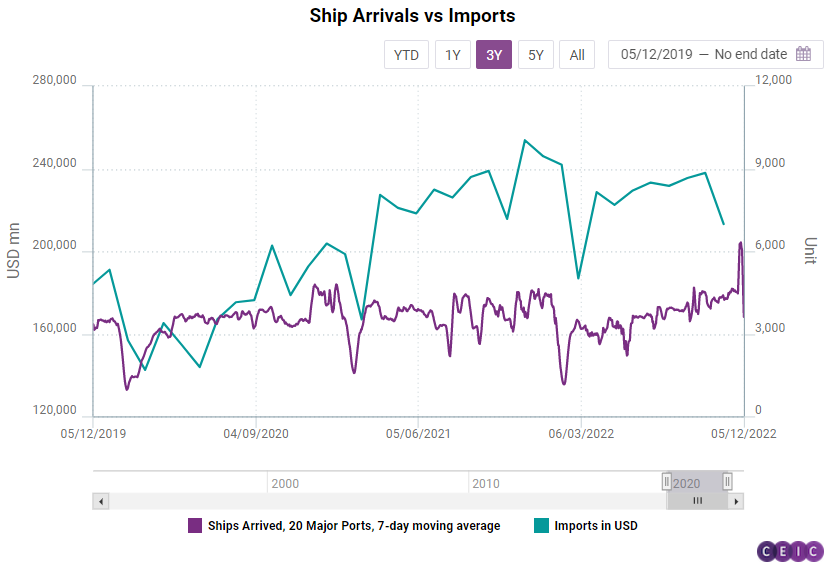 More than 95% of China's international trade is carried out by maritime transport, ship handling at ports can serve as an early proxy of China's foreign trade. This has been especially true when it comes to the correlation between the deadweight tonnage of ships and trade volume. For example, back to the year 2020 when China was first hit by COVID, the deadweight tonnage of departed ships reached the bottom in late February and since then had started to rebound. The recovery was later reflected in an elevated export volume number for February. However, as China customs releases the previous month's trade volume data within around 20 calendar days each month, that data was much delayed compared to port data which are updated on the next day.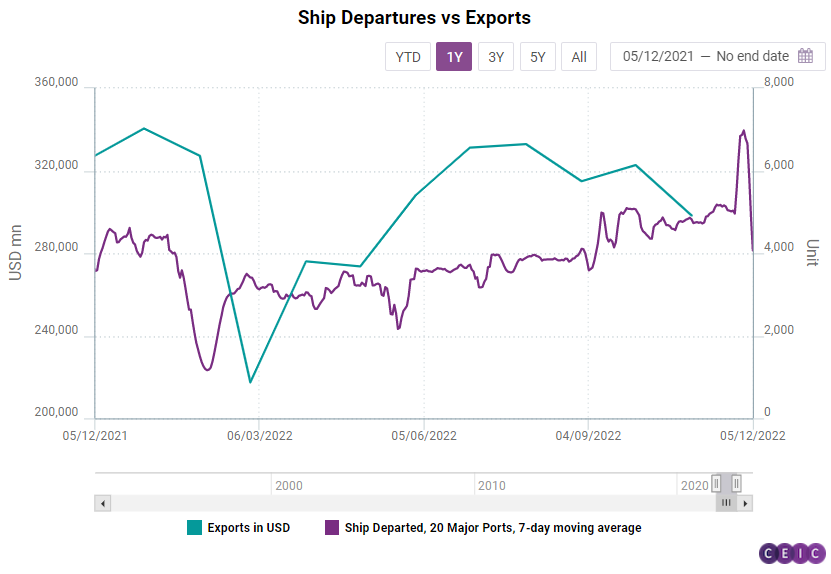 The Elane Shipping Statistics dataset, now available in CEIC, consists of daily data on ship arrivals, ship departures, ships in port, ship at berth, and ship and anchorage covering China's 20 major ports. The data provides a real-time picture of China's foreign trade and the latest supply chain developments. Besides the aggregate cargo ship movement and port congestion data, Elane Shipping Statistics provides breakdowns by ship type, which makes the dataset a powerful tool to estimate China's trade of specific commodities like energy products by tracking the movement of oil tankers and LPG carriers.
The CEIC Global Database provides access to a vast database where users can gain insight into the ever-changing dynamics of world economies.