Over one year after the invasion of Ukraine, monitoring Russia's economy has become increasingly difficult, as the Russian statistics authorities stopped releasing key indicators or updating them only rarely and irregularly. Foreign trade is a notable example. In March 2023, following a 12-month gap, the customs office and the central bank published their first update on imports and exports.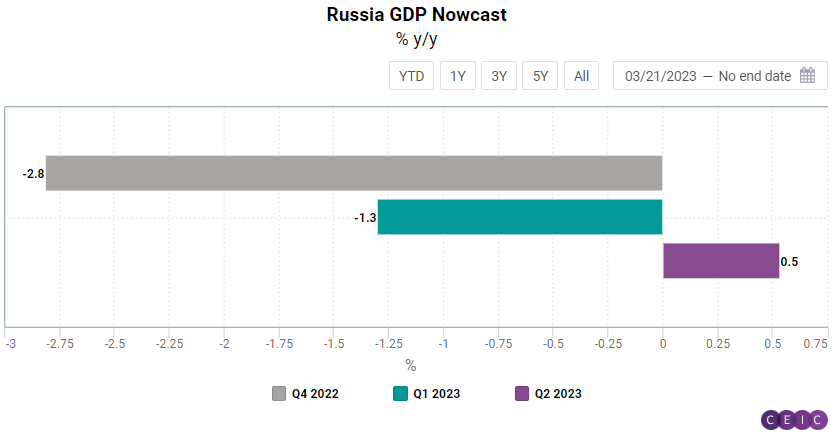 Further, as of mid-March, the quarterly GDP data is available only until Q3 2022. The Q4 figures for each year are traditionally released later compared to the other quarters – usually over three months after the reference period, meaning some time in April, whereas for the other quarters, the data is published with a month and a half-lag. Rosstat publishes a full-year GDP index and it pointed to a 2.1% decline in 2022. However, it does not have a release date for the Q4 2022 figures, while the Q1 2023 GDP data is expected on May 17th.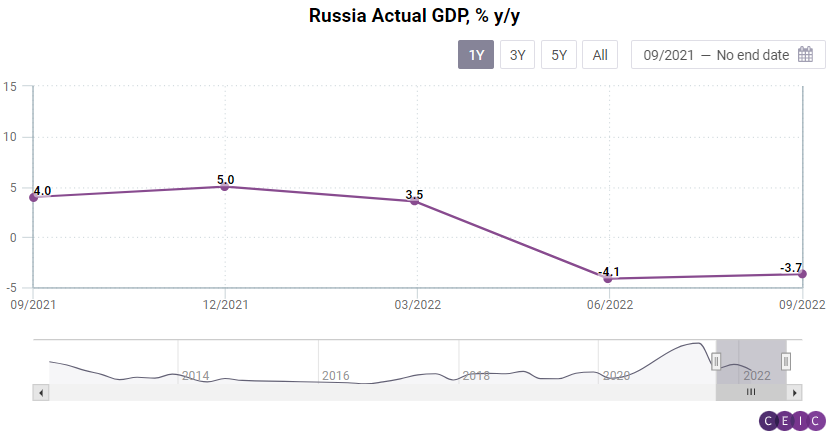 The disrupted statistical releases, as well as the uncertainty of the available information, leads to compromised estimation and cast doubt on the reliability of the data. This is evident in the forecasts for Russia's GDP growth in 2023 by multiple sources. FocusEconomics, for example, publishes consensus forecasts based on a survey among 27 panelists and there are significant disparities. The highest forecast is for a 1% GDP growth rate in 2023, while the lowest points to a contraction of 7.1%, with the divergence in those figures starting back in March 2022. The median FocusEconomics forecast points to a drop of 2.3% in 2023. The disparities are evident in the estimations of the IMF and OECD, expecting 0.3% growth and 4.3% contraction, respectively.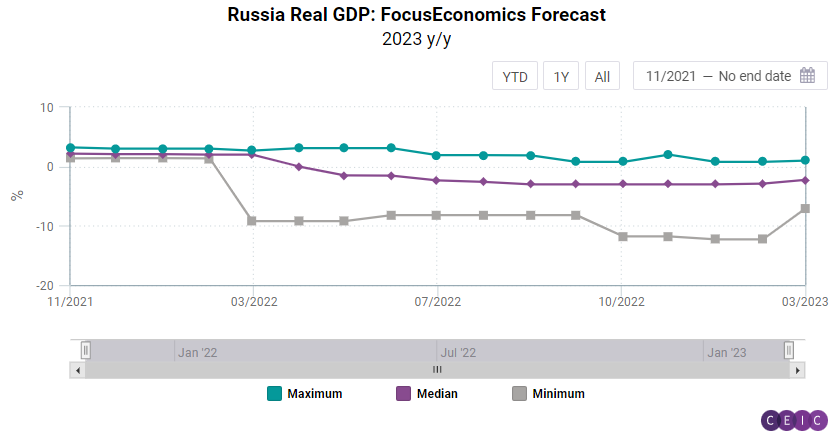 In an environment of compromised data releases, the GDP nowcast available within the CEIC database proves to be a timely and reliable source of information on Russia's economic activity. According to the latest daily data, Russia's GDP contracted in both Q4 2022 and Q1 2023 by 2.8% y/y and 1.3% y/y.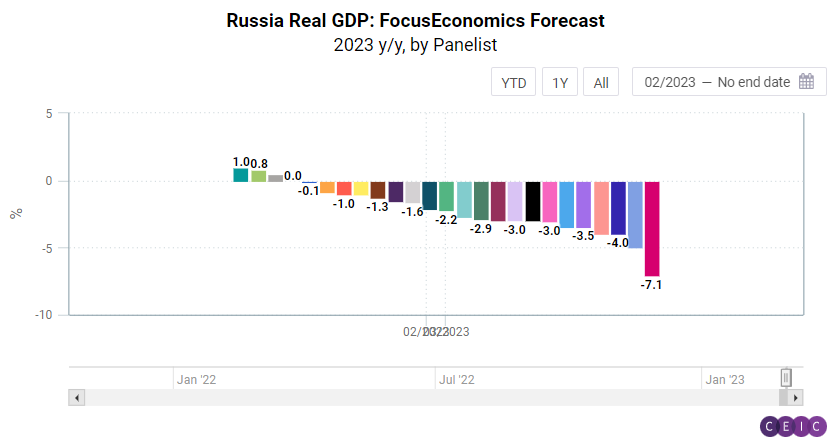 The sanctions-struck global commodity exporter will then recover modestly, with the economy set to expand by 0.5% in Q2 2023.
The CEIC Global Database provides access to a vast database where users can gain insight into the ever-changing dynamics of world economies.