A home to abundant natural resources, Indonesia has for years tried to squeeze more value from its metal ores as it seeks to develop its downstream industry.
The latest push sees Indonesia tapping into its rich nickel ore reserves to meet a rising demand for the metal from electric battery producers. Alongside feeding its stainless steel industry, Indonesia now wants to reserve a portion of its nickel ore for the production of lithium-ion batteries used to power electric vehicles (EVs). The country is the second-largest car producer in Southeast Asia after Thailand and aims to position itself as a global hub for low carbon vehicles. To provide the resources to develop the EV industry, the government has decided to suspend the exports of nickel ore from January 1, 2020, moving forward the ban by two years.
Some 80% of the world's nickel is used to make stainless steel for pipes and household items like fridges, but electric battery makers have been increasingly using the metal to boost their firepower. Rising demand and Indonesia's export ban announcement, made in September 2019, pushed nickel prices up to their highest level in five years amid concerns that the ban will flip the global market of refined nickel to a deficit. Indonesia is the largest nickel ore producer, suppling a quarter of the global output in 2018. The country is also the world's biggest exporter of nickel. In 2018 it exported nickel ore for USD 628mn, or 21.5% of the world's total.
The export ban will create a gap in the global nickel market of some 100,000 tonnes a year, The Wall Street Journal reported in September 2019 citing Timothy Wood-Dow, an analyst at BMO Capital Market. Indonesia said it expedited the ban to reserve ore for its smelting industries of nickel pig iron, stainless steel and electric vehicle batteries. Bambang Gatot Ariyono, the director of Indonesia's mining ministry for coal and minerals, told reporters that the country would need 81mn tonnes of nickel ore supply per year. The country currently has about 14 nickel smelters and would build 27 more, according to the Indonesia Smelter Enterprises Association. Bambang said that the ban is in line with the national plan to accelerate the establishment of smelters so that Indonesia could sell value-added nickel products such as stainless steel and electric batteries.
A number of companies, including Japan's Toyota Motor and South Korea's Hyundai, have expressed interest in building EV plants in Indonesia. The Japanese company has pledged to invest USD 2bn in Indonesia over the 2019-2023 period, part of which will be used to develop EVs, Starting with hybrid vehicles, Industry Minister Airlangga Hartarto was cited as saying by Reuters in June 2019. Hyundai plans to build an EV plant in Karawang, west of Java, as part of a USD 1bn investment. China's battery firm GEM has teamed up with lithium battery maker Contemporary Amperex Technology and stainless steel-maker Tsingshan Holding to invest USD 700mn in a project to produce battery-grade nickel chemicals in Indonesia.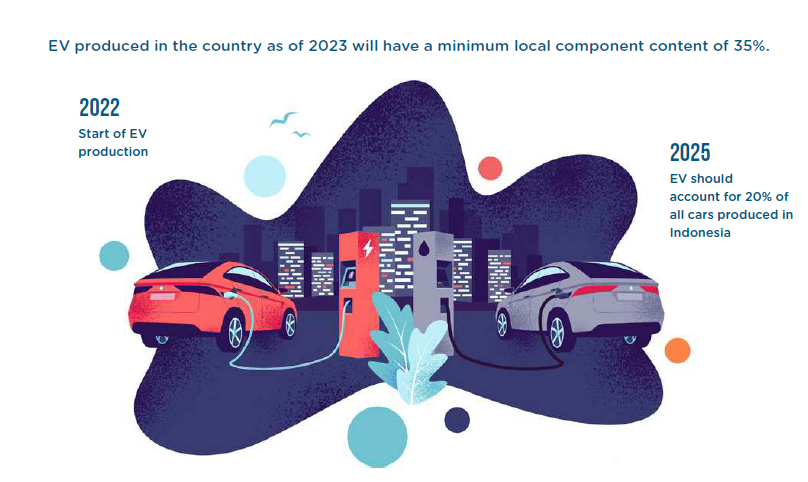 Indonesia's efforts to lure in investors have been supported by a slew of incentives for electric-car manufacturers and drivers such as reduction in import tariffs for machinery and materials and lower luxury taxes for buyers. A decree, signed by President Joko Widodo in August 2019, envisages EV produced in the country as of 2023 to have a minimum local component content of 35%. Indonesia wants to start EV production in 2022 and in a three year period the share of such cars should account for 20% of all cars produced in the country. Indonesia has abundant nickel reserves, which the US Geological Services (USGS) estimated at 21mn tonnes as of end-2018, equal to 24% of the world's total of 89mn tonnes.
The main resources of nickel are concentrated in Southeast and Central Sulawesi, and in Halmahera. About 80% of nickel production in Indonesia consists of nickel matte from Vale Indonesia, which is exported to Japan's Sumitomo to be refined into pure nickel metal for high-tech applications. The remaining 20% is ferronickel and nickel pig iron, and feeds the Asian stainless steel industry. The nickel ore export ban was initially planned to go into effect in January 2022 and the government's decision to bring it forward reinforced the country's reputation of high policy uncertainty and poor mining operating environment, as Jakarta has frequently flip-flopped on its mineral exports policy.
To add more uncertainty and solidify that reputation, Indonesia made another unexpected move in late October 2019, when the recently appointed chairman of the country's Investment Coordinating Board, Bahlil Lahadalia, said the government and the nickel miners association agreed to halt exports immediately. Exports that were due to be shipped from Indonesia by the end of 2019 will be bought by domestic companies and smelters, Lahadalia was cited as saying by Reuters...
To see the full article, along with other key pieces surrounding 'new economy' industries, download the Foresight 2020 report for free here.