The question is not whether the world is embracing electric vehicles, it's how and when they will turn profitable for their manufacturers.
At a time when the global economy is heading for its sharpest slowdown in years, a double-digit growth in sales is a rare market reality. Yet this appears to be the case for electric vehicles (EV). Even rarer is a triple-digit growth, but not for China, the world's biggest EV market. Sales of pure EVs in China jumped by 190% y/y in January 2019 and by another 124% in June. During 2018, China witnessed an 83% rise in EV sales to reach nearly 1.1mn units, or 55% of the global electric car market, according to data from the International Energy Agency (IEA).
The countries and regions that enjoy dynamic EV market development are those with generous incentives, heavily influenced by government policies. This makes it hard to assess the pure market drivers behind the EVs and the industry's global outlook. Honda's CEO, Takahiro Hachigo, said that demand is driven not by the market and clients, but by regulations and politicians. That
is why Hachigo does not believe that e-vehicles will take over the industry.
The key global players are China as the biggest market in absolute terms, Norway as the leader in terms of EV market share (46% of new car sales in 2018, according to the International Energy Agency), Europe and the US. All of the regions are experiencing different developments.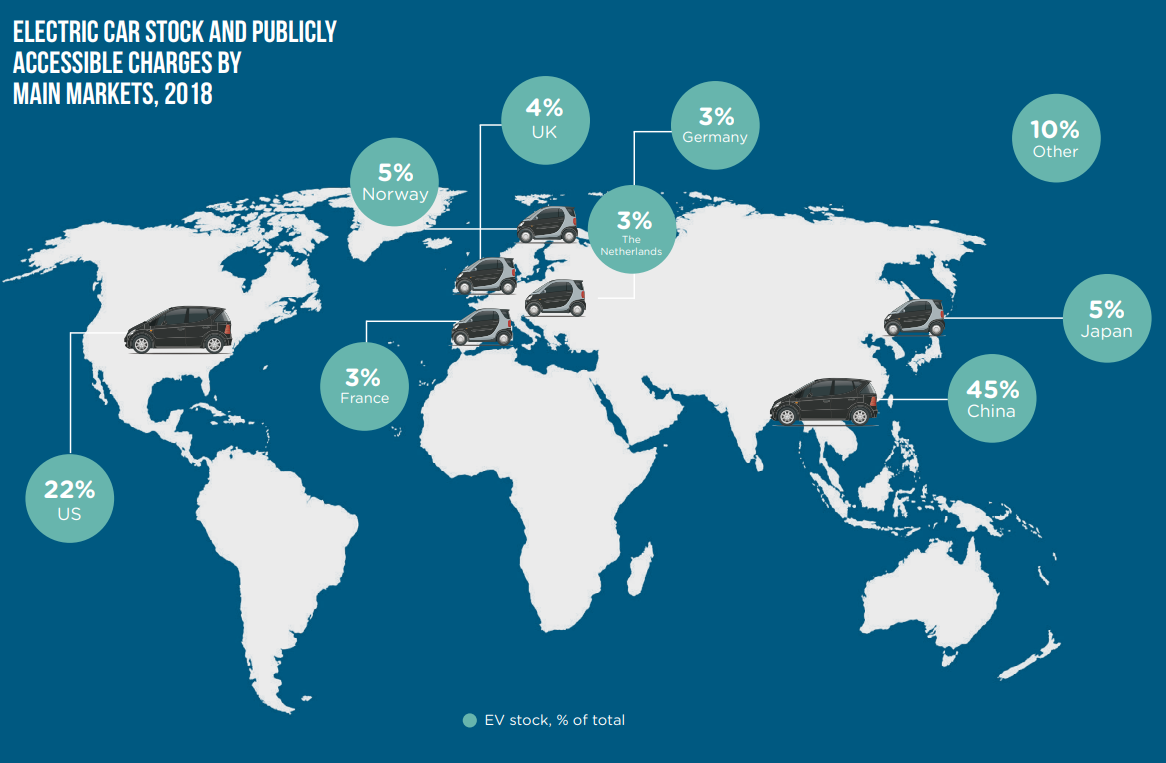 Electric mobility is developing at a rapid pace. According to the IEA's report Global EV Outlook 2019, the global electric car fleet exceeded 5.1mn units in 2018, up by 2mn in just a year, almost doubling the unprecedented amount of new registrations in 2017. The global consensus in favour of a shift towards clean energy, underpinned by concerns about air pollution, especially in Asia, and climate change in general, mean that big strides towards growing and developing the EV market are looming.
Manufacturers and consumers see decisive measures from the authorities in key markets towards supporting the production and sales of EVs. The long-term and sustainable future of EVs, however, depends not only on government subsidies and the willingness of some consumers to purchase an electric car. Currently, buying and maintaining an EV is only an affordable project for a few. Manufacturers want profit and if they are going to invest substantial amounts in electric cars and technology, they need to see a positive earnings outlook. Unfortunately, this is not the state of affairs.
Harald Krueger, former BMW chief executive, has been quoted multiple times as saying that EV sales growth, at least in Europe, depends on three factors – driving range, which is one of the biggest concerns for potential e-vehicle owners; price (or in other words, which company will be the first to make this new technology cheaper); and infrastructure. According to Krueger, the third issue still has no solution and has to be resolved together by industry and governments.
The key reason as to why EVs account for over 40% of car market sales in Norway is because the country has proper infrastructure, says Krueger. Clear evidence of the impact of government support on the EV market is China's latest subsidy policy. In June, the government in Beijing cut purchase subsidies for EVs by half and announced subsidies would be completely phased out by the end of 2020. The goal is to support the competitiveness of EV makers and avoid making them over-reliant on government incentives. The effect on the market was quick and harsh – Chinese EV sales fell in July and have been in decline ever since. Global sales also suffered, with the market registering its first drop on record in July. Sales worldwide fell by 14% to about 128,000 plug-in passenger electric vehicles, said Sanford C Bernstein in a report.
Underdeveloped EV charging infrastructure remains a major barrier to drivers
The unprecedented slump in Chinese EV sales might put at risk the government's green ambitions. Beijing has set a target to boost annual EV sales to 2mn units in 2020 and intends for new energy vehicles to make up a fifth of its auto sales by 2025. By then, annual sales of those vehicles are targeted to reach 7mn units.
The gradual reduction of government interference in China reflects the general trend of sobering up after the euphoria on the EV market, which is valid for Europe as well. Although there are significant tax exemptions for electric vehicles in almost every EU member state, as well as generous subsidising schemes for consumers in roughly a dozen EU countries, sometimes these measures do not prove effective. The Netherlands, for instance, reduced its subsidies for companies purchasing plug-in hybrids in 2017 after it turned out that the majority of the cars were rarely charged and ran almost exclusively on gasoline instead. In other words, the firms bought them because of the lower price and not because of the intention to use the vehicle as a hybrid...
To see the full article, along with other key pieces surrounding 'new economy' industries, download the Foresight 2020 report for free here.